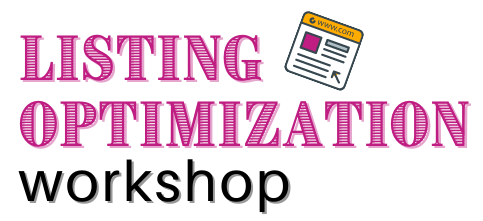 Learn how to optimize your Amazon listings and grow your sales!
Get the recordings of June 2021 Listing Optimization Workshop
With the Amazon marketplace becoming a highly competitive landscape, you can no longer have average listings that you set & forget and expect to win.
Converting visitors into buyers is KEY!
Knowing how to convert visitors to buyers  effectively is how you can grow your Amazon sales and start profiting!
In this Listing Optimization Workshop, you will learn strategies to improve and optimize your new or existing product listings to turn them into automatic sales machines.
The workshop consists of training, demos and presentations plus downloadable content to help build your own keyword bank, get your pricing correct, and make sure your brand story is 100% on point.
Each listing component is broken down to show you how to maximise each element's potential. You will be given step-by-step instructions that you can implement straight away.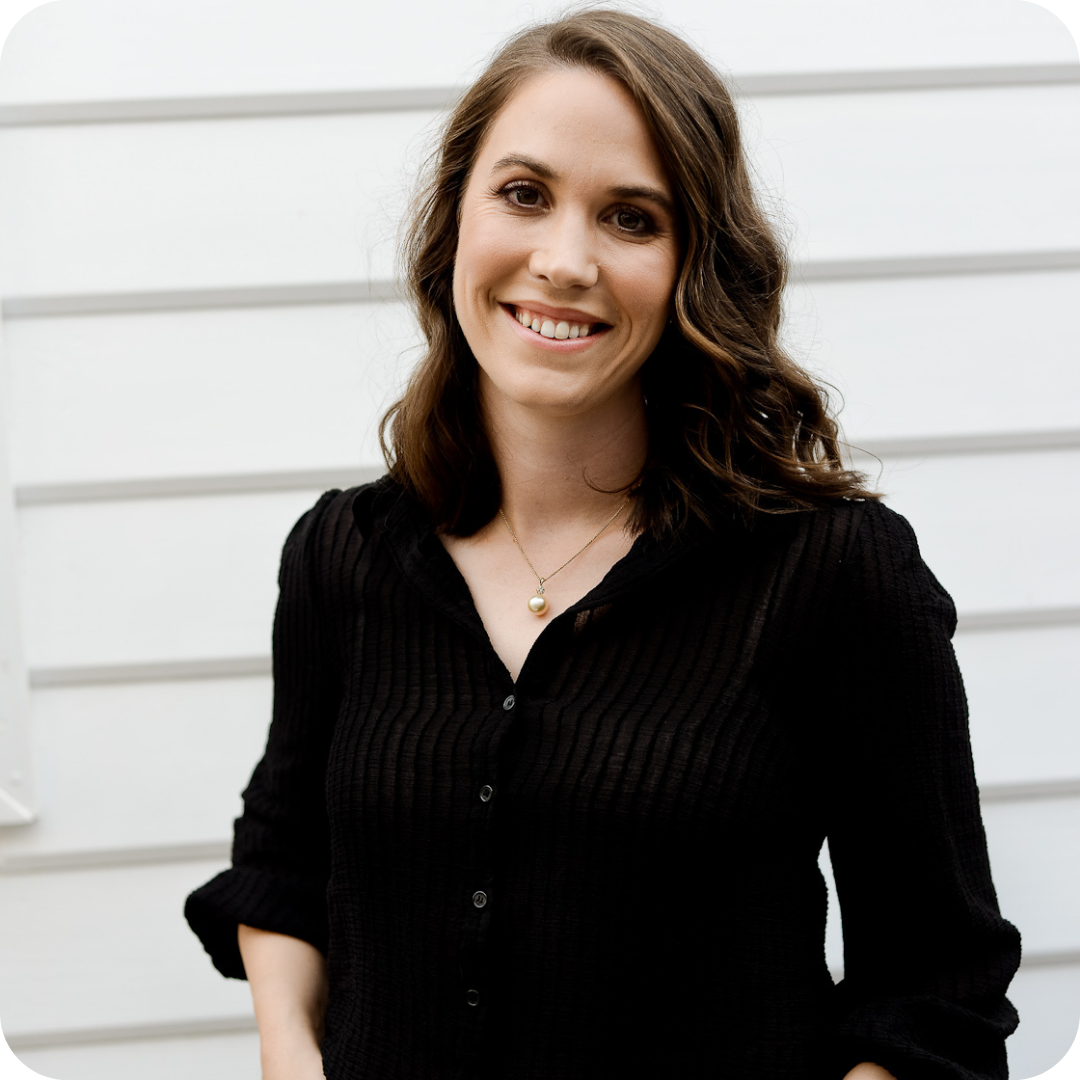 Meet your trainer
I'm Verity Sewell, a Perth-based Amazon specialist. I first began my Amazon journey in 2012 when I launched a private label product that sold out in days! I went on to sell in the USA, UK & Europe with success before turning my attention to Account Management & Coaching.
I recently headed up an agency team of Amazon specialists who worked exclusively with high-end product brands wanting to launch & grow their product ranges globally. This experience allowed me to work with hundreds of clients and their Amazon accounts. Simply put, I've seen it all… what works and what doesn't!
I've spent hundreds of hours pouring over listings, tweaking and improving them to grow sales and boost ranking.
It is with that experience that I will be leading this workshop to share with you what I've learned & how you can take my knowledge and use it to take your own Amazon listings to the next level!
Hear from Verity how Listing Optimization Workshop can help you
What attendees said about the workshop 🙂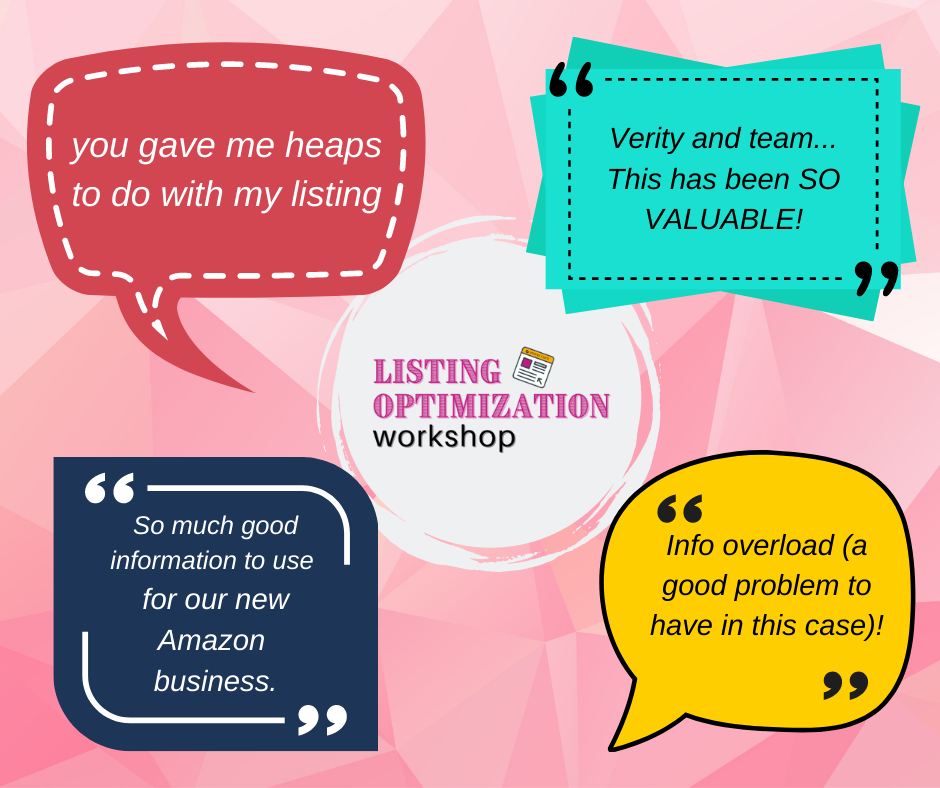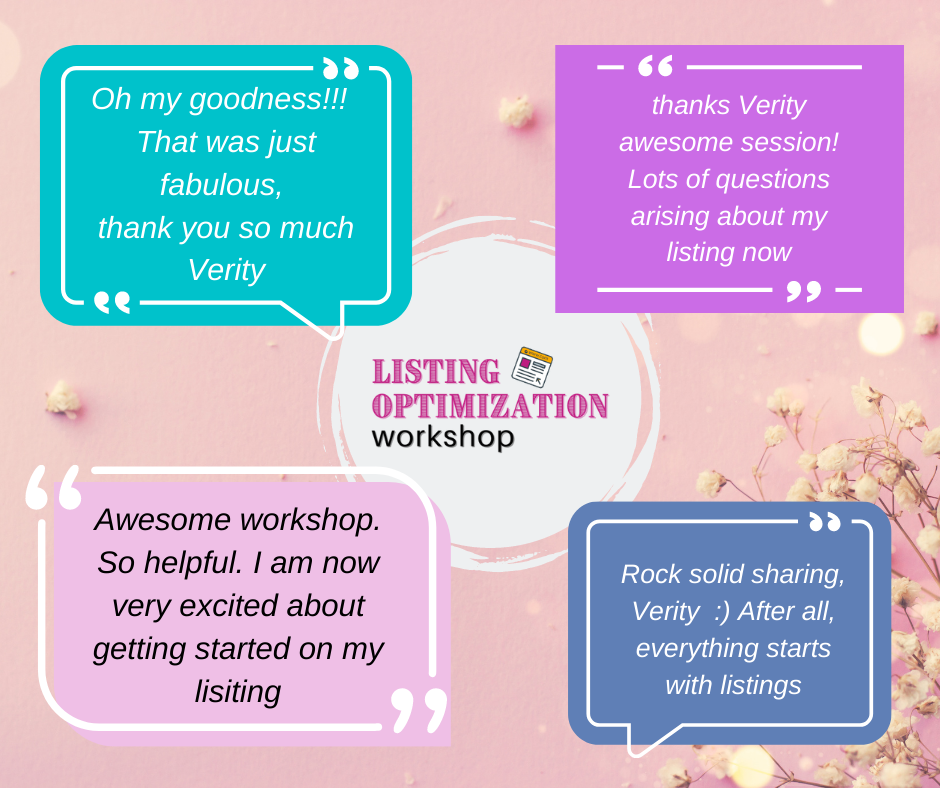 PART 1: Keywords, Copywriting, Pricing
Keyword Research & How to build a Keyword Bank – This is the most crucial part of selling on Amazon, and this is also where most people get stuck! Finding the right keywords for your listings is critical to show up in search results. We start the workshop with giving you a simple & effective strategy to know what keywords you should be using in your copy.
Upgrading your Copywriting - Titles, Bullet Points, Descriptions & A+ Content. Find out if your copy is letting you down & how to improve it. This may be as simple as small tweaks that can have a huge impact or a total makeover where you start again!
Pricing Strategy that gets more sales – How to find the sweet spot for optimum sales and revenue. You could be making more profit & not realise.
PART 2 - Images, A+, Promotions, Reviews, Variations
Navigating Seller Central to find all areas you should focus on optimising.
Creating cohesive listings & brands – The importance of making multiple listings work together & how to achieve this.
Algorithm vs Human Interaction – How to build both aspects into a winning listing.
How to validate your ideas before making changes.
Downloadable activities for you to put your learning into practice.
Don't Set & Forget your listings… Amazon is about consistently tweaking and testing to be ahead of your competition.
Verity's unique teaching style means whatever stage you are at in your Amazon journey this Listing Optimization Workshop has something for everyone.
Don't miss this opportunity to learn directly from someone who has incredible hands-on Amazon listing experience - and can show you proven strategies to increase conversions and sales.
Is this workshop for new or experienced sellers?
This workshop is for anyone who wants to improve their Amazon listings and conversion rates. New sellers will find the strategies exceptionally useful, and experienced sellers will also have something to learn.
Is this only for sellers selling on the Amazon US marketplace?
The principles can be applied to any Amazon marketplace, and even websites.
What is the cost of the Listing Optimization Workshop?
The fee to join is US$197 per person.