On this week's The Asian Seller podcast, Jason Tay, Margaret Jolly, Kevin Oldham, Meghla Bhardwaj and Baptiste Porzier get together in a virtual meetup and share what they believe are the top e-commerce / Amazon FBA trends for 2021. 
Some of the trends discussed are more like strategies you need to continue emphasizing as we head into the new year, while others are specific shifts we're seeing on Amazon and in e-commerce.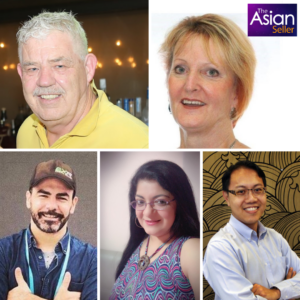 Here are 10 Amazon FBA and E-commerce Trends for 2021:
Continued E-commerce Growth:

Online shopping is becoming more mainstream and e-commerce sales will continue to grow globally.

More Competition

- The growth in ecommerce means more sales but also more competition. Be ready for more competition as more entrepreneurs jump on the bandwagon, and big brands invest more in e-commerce.

Focus on Product Selection

: Increasingly more important to focus on product selection to ensure you have the right keywords, and profitable products. 

Diversification

: Don't put all your eggs in one basket. Diversify for products, keywords, sourcing, sales channels, and traffic funnels.

Continued Logistics Disruptions:

Expect continued disruption in supply chain and logistics when shipping from Asia. Also anticipate issues with FBA including inventory restrictions. It is critical to have a 3PL warehouse in place in the US. 

Video Content:

Video PPC ads on Amazon are doing really well currently, and will continue to be popular in 2021. In addition, product videos on listings will 

Social E-commerce:

Amazon Live is gaining traction, and will continue to be enhanced and given more exposure on the website. Plus, livestream shopping on social media such as Facebook, Instagram, and services such as Talk Shop Live will be more popular.

Influencer Marketing:

We're seeing the rise of micro influencers on social media, and they can provide an incredible platform for product promotions and launches. 

Exit and Acquisitions:

A huge opportunity for entrepreneurial sellers is cashing out on their business. In 2021, companies such as Thrasio and Alpha Rock Capital will continue to buy more businesses. Make your business profitable and investor-friendly. 

New Ways to Network:

Networking and learning from each other will continue to be super important for Amazon sellers. New apps such as Clubhouse, and Voice Chat in Telegram will give us new ways to collaborate and learn. Join a mastermind, find your tribe and grow together. 
Contact:
Jason Tay: www.facebook.com/jasontayonline 
Margaret Jolly / Kevin Oldham: www.facebook.com/margaretjollybrightdezigns 
Meghla Bhardwaj: www.facebook.com/meghla.bhardwaj