In this episode, Gary Huang, Founder of 7 Figure Seller Summit and 80/20 Sourcing shares his key takeaways from interviewing 20 sellers. These 10 pillars are critical to run a successful and profitable Amazon and eCommerce business.
Gary is an Amazon seller himself, and also a coach on India Sourcing Trip. He has helped thousands of e-commerce entrepreneurs save time and money sourcing products and scale their businesses.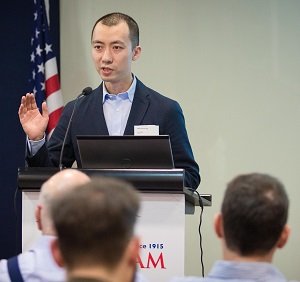 He has also worked with hundreds of Chinese suppliers, having managed multimillion dollar sourcing campaigns for clients.
10 pillars discussed in the podcast:
Thanks to Payman Lorenzo from 90 Day FBA for writing this summary.
Mindset
Successful entrepreneurs will get around excuses. When they are faced with challenges, they find ways around them. These challenges are like barriers to entry for those who are too lazy and do not want to take the time/make the effort to overcome these challenges.
How do they find the motivation to get over these challenges? Use what you don't like (eg. waking up to an alarm clock as your motivation to get over any obstacle you may face. Find what motivates you and use that to inspire you to get over these excuses. 
Get off of Amazon to find profitable products
What used to work in 2016-2017 to find products may not work as now there are thousands/tens of thousands of people searching for the same products using the same tools you all are using. Use external sites like Pinterest and Cratejoy to find profitable products and keywords. 
Use subscription sites as they may have products that are ahead of what's available out there. Etsy is a good place to search for what customers are searching for. Reddits and subreddits are great to get feedback on new product designs. Use this approach to get the MVP (Minimum Viable Product), that is invest the minimum amount of time and resources to test and validate a product using real user feedback without committing to an expensive purchase order that would cost you thousands of dollars and months to manufacture. 
Go to fairs as a lot of suppliers and products are not online and by going there in person, you can not only establish a connection with suppliers but also get great product ideas that you would not be able to find if you were to only look online.
Apply the 80/20 rule to increase profit
Focus on the tasks that make money, outsource the tasks that do not make money. Example of a money making task: creating videos with yourself and your family/friends using your products to show customers how to best use them. 
Build a superstar team
Build a team that fills in the gap to make your business strong by hiring people to make up for your weaknesses. Another benefit of having an all-star team is that you learn from them as well. Your team can be remote, it doesn't have to be a local team at a local office. If you have a team of remote workers, spend time with them socializing with them online and in person to strengthen the relationship. 
Marketing / branding
Building a brand is more critical than ever now given the increased competition. Building a list on Facebook before you launch a product is like bringing a gun to a fist fight. If you have a brand, you can then map that out as far as what kinds of products to launch next for product development. 
Having a brand can also help you sell your business for more when you'd be looking to sell your brand. Building a brand helps you to beat competition and position yourself for a strong exit when the time comes to sell your business, if you do decide to go that route. 
Amazon is also favouring sellers that have brands. Having a brand also allows you to protect yourself against highjackers. You can also get access to invaluable data through Brand Analytics within Amazon as well as Enhanced Brand Content. 
Keywords for PPC. F Yeah VS F No  Keywords
Need to balance the data with common sense so you don't pay the idiot tax. Amazon is a Pay to Play game. The more you pay for PPC, the more data, the better the ranking of your product.  And you'll know if the product, keywords are profitable and then use that data to determine whether to scale or not a specific product using actual data from the marketplace. Don't just rely on data, use also your brain and common sense. Data is one part of the decision making process. 
Every week, you'd need to download your search term report from your Amazon dashboard and then manually review each keyword to see whether they're relevant or not. This way, you can see clearly which keywords to focus on and which ones to drop so that you maximize your ad spend ROI. The goal of your PPC campaign is to break even, that's independent of organic sales. The PPC campaign is where you mine the valuable keywords. 
By looking this way at your data, you can easily determine which are the top keywords you need to focus on and which ones to drop so that you can stop wasting money on underperforming keywords and spending that money on only those who do perform and in the process, reduce your ACOS and increase your profitability. 
One of the better ways to increase the profitability of your business is to cut out 90% of the keywords that are underperforming and focus on the 2-3 keywords that are performing. So apply the 80/20 rule and identify your "F Yeah" products and get rid of the "F No" products asap.
Whatever gets measured, gets managed
Ask yourself if your product has enough margin for PPC, if yes, then you can afford to outspend your competition and buy your way to the top. The key thing is to KNOW YOUR NUMBERS. When you know your numbers and know your profit margin, then you know how much you can spend on PPC. 
Track very closely your Amazon product conversion rate. Pull out every week your Amazon session report to see and identify what's working and what's not working. All of this might sound a lot of work but you can automate this process by using tools such as Seller Board, Sentry Kit and others to track your keyword ranking, to monitor your listing if things change or your listing gets taken down. 
If you're selling internationally and trying to bring your money back into your currency, a lot of people make the mistake of using Amazon's built-in service to transfer USD into your currency. Amazon charges 3.9% fees for that. Instead, use a 3rd party payment transfer option like Payoneer to lower your fees from 3.9% to 1% or lower. 
All in all, KNOW YOUR NUMBERS to stay in business, save money and to remain profitable. 
Use tools to automate which metrics to track on a regular basis: 
- If things change on your listing, or get negative reviews (Sentry Kit), it'll notify you by email right away. 
- Conversion rate is important. If it drops below 10% then that's going to hurt your ranking. Different things can affect your ranking, your negative reviews, new competitors coming into the market.
Split test ideas quickly and cheaply
You can test products cheaply and quickly by using online tools instead of committing to purchase orders for thousands of dollars. Register a cheap domain, use Facebook ads to validate products and business ideas. Drive about 100 people to these ads and see the conversion rate to validate whether it's worth pursuing or not. 
Pickfu.com helps with that to test your product ideas, copywriting, images, different variations like colours etc. 
You can run a poll to real Amazon shoppers to give you feedback on what they like/don't like about your product/listing You can even test your product images against your competitor's to find out which converts better. If the competitor's perform better, then you know what you need to do to improve yours right away. It's a great and cheap way to run a test, costs about $50 and takes as little as 15 minutes to get real feedback from actual Amazon buyers. 
Profitability. Focus on the BOTTOM line, not the TOP line
Focus on PROFITS, not REVENUE! One of the biggest mistakes sellers make trying to grow their businesses is by only increasing sales. Top line revenue doesn't necessarily mean you're profitable, quite the contrary! Again, this comes down to once again the importance of knowing your numbers asap! Hire a bookkeeper asap to keep track your finances and put together a profit and loss statement and balance sheet of your business.
Monitor your dashboard everyday to keep on top of your numbers at all times. This also allows you to see at what stage your product life cycle is, is it growing?, stable or declining product? Knowing your numbers is also very important when it comes to selling your business. When selling your business, the business's value is based on the profits, not on the revenue. 
Selling a business. Have an exit strategy in mind
Buying an Amazon business is becoming more and more a legit option for investors as more and more of these Amazon businesses are building real businesses, with proper branding, customer lists etc, things that make a business appealing to business buyers. Amazon has become more and more popular so people are not afraid to buy Amazon businesses. 
What can you do to increase the chances of your businesses getting sold and getting a higher multiple? 
You need a tightly focused brand portfolio of products, not just a "hero product" that's crushing it and making up for a bulk of your sales and a bunch of smaller products doing smaller numbers.

The product should be appealing to a common target audience.

The products should complement each other. This is why a brand is so important.

Buyers want to see a net profit margin of 30% or higher. Thin margins are not attractive to buyers. 

Buyers also want to see some diversification of sales away from Amazon, at least 30% away from Amazon so it's less of a risk for them so they don't have all their eggs in one basket (Amazon in this case). It can be selling on your own website, sales funnels, Walmart, Ebay or selling in different marketplaces like Europe, Japan, UK etc and not just limited to one marketplace. 

Finally, give the buyer something they can improve on. By leaving some upside to your business that the buyer can take action on, this will increase your chances of selling your business and increasing the multiple you'd get. For eg, if you haven't been able to develop or scale a new product due to a lack of cash flow, then the new buyer can come in, do that and increase sales right away. 

Stay away from black hat tricks / tactics as buyers do not like that at all!
More information: